FIRST EVER WORLDWIDE SEMI-SUBMERSIBLE
LAGOON EXPLORER represents the DNA of the original Platypus concept, with a blue and a whole equipment allowing a resort or a leisure operator to offer to their customers the whole ability of Platypus: navigate with 5 passengers on or under the surface.
The Platypus LAGOON EXPLORER answers to all requirements with:
A power of 150 HP providing a surface speed of 25 knots max.
The digital periscope to watch what happens @ the surface... while navigating under the water. This amazing equipment ensures a 100% safety for the pilot and its passengers and allows to certificate the craft as a "standard" boat thanks to its 360° permanent vision.
The breathing system for up to 6 passengers thanks to 2 hookah systems (Nardi compressori system)
A spoiler designed to welcome any such as awning, radio, etc.. The spoiler is integrating also the cameras of the digital periscope and snorkel for breathing system.
Light for night navigation underwater (2 led projectors).
You want Electric? Yes we can! An e-Platypus is available with 2*10Kw power for 295 000 EUR (equipment is roughly the same but integrating all specificities of electric propulsion (additional battery pack for up& down and breathing systems, solar awning etc…).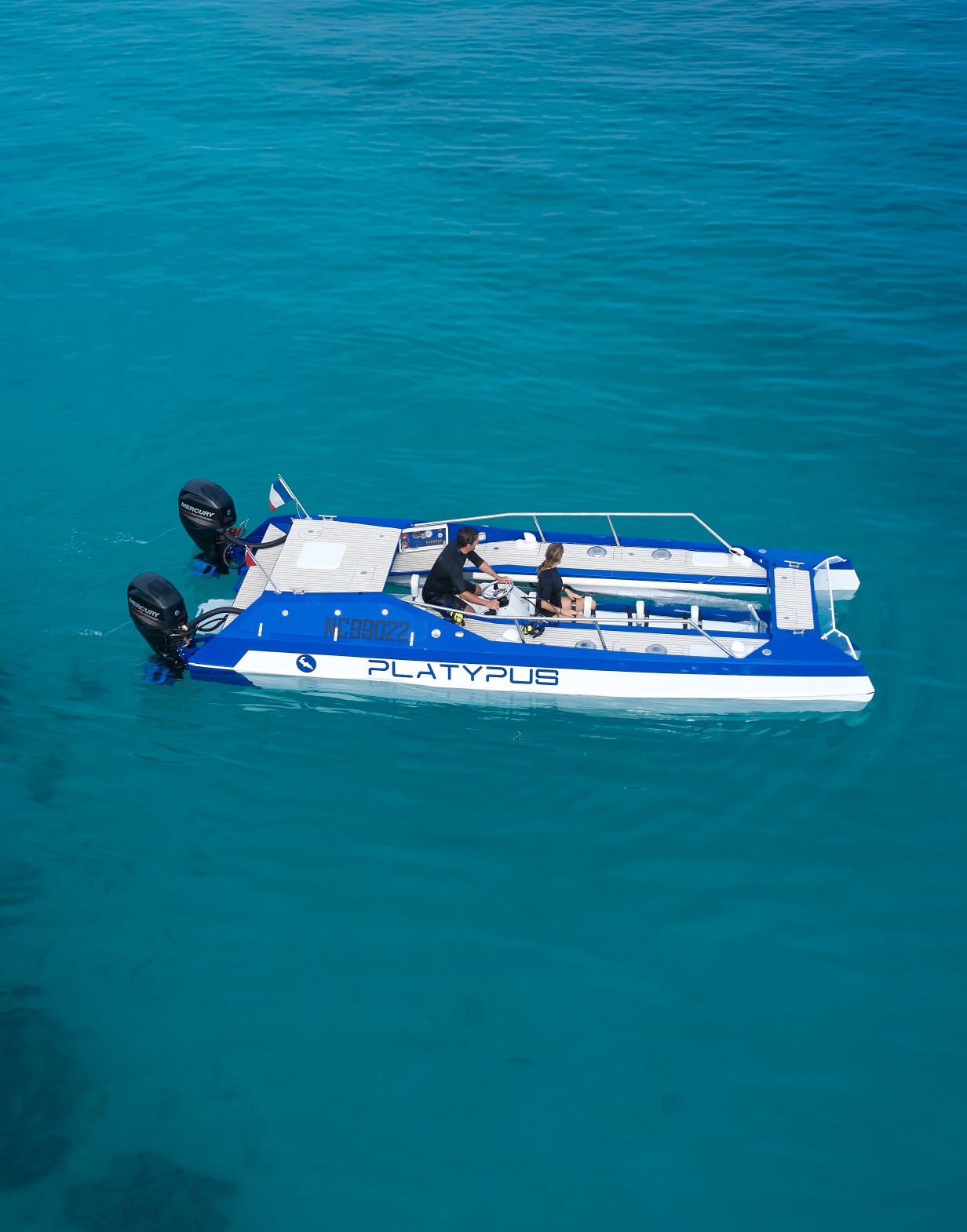 Lack painting (specific painting on demand)

Double Air compressor (hookah system) with 6 air hoses on the pod

Mobile central hull designed for 6 people Surface / Diving

Full detailing & equipment (cleat, anchor, strake, seats, foot straps and belts for driver and passengers…) including a beautiful "craft finishing": aluminum dashboard, vinyl upholstery…

Propeller cages

Digital periscope (necessary for having certification of the ship as a boat)

Plexiglas windshield

Speedometer, sonar, tachometer, board computer, 12V battery gauge

Submarine lights: 2 spots with 10 leds

Soft awning

Shower kit

Radio with 4 speakers
Powerful Submarines projectors

Underwater Cameras

Underwater communication system (for Ocean Reef

 

masks only)

Waterproof case with GPS

Additional ballasts (in lateral hull) for max. stability underwater 300L*2

Power:

E-platypus: full electric propulsion system (2*10kw power,20kw lithium ion batteries)

gas power: 2*75 HP outboard gas

 

engines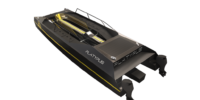 Discover the SPORT EDITION
You want a sport boat with a unique design ? You like fun on and under the water ?
The SPORT EDITION is definitely made for you!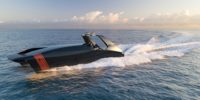 Discover the YACHT EDITION
If you are looking for a tender for your yacht with a disruptive design, high class standards and a unique capacity being both a tender and a toy, allowing you to invite your passengers to discover shallow waters from down under, don't search anymore: the YACHT EDITION is made for you !