First ever worldwide semi-submersible
THE PLATYPUS Coast Explorer represents the DNA of the original Platypus concept, with a complete equipment allowing a resort or a touristic operator to offer to their customers the whole capacity of Platypus: navigate with 10 passengers on the surface and 6 under the surface.
The Platypus Coast Explorer answers to all requirements with:
A power of 2*150 HP providing a surface speed of 25 knots max.
A digital periscope to watch what happens on the surface… 4 cameras on the roof provide a 360° permanent vision to the pilot on the dashboard.
The breathing system is fully integrated and virtually « no-limit » thanks to 2 hookah systems (Nardi compressori system).
Light for night navigation underwater (2 led projectors).
And all the equipment & comfort you can expect from such a craft (shower, radio, GPS, etc…)
You prefer Electric power ? Yes we can! An e-Platypus is available starting with 2*10Kw power up to 2*50Kw (equipment is roughly the same).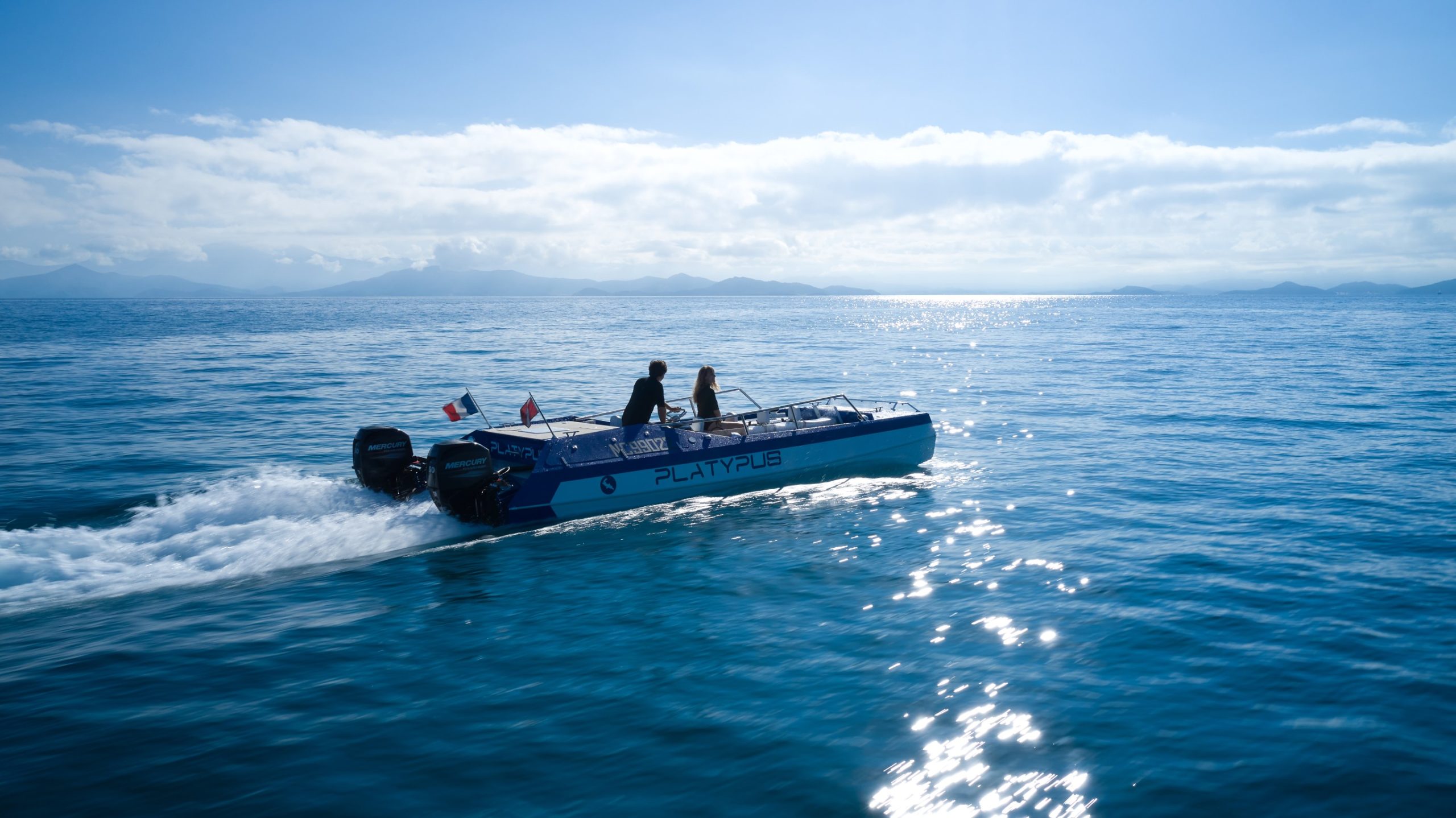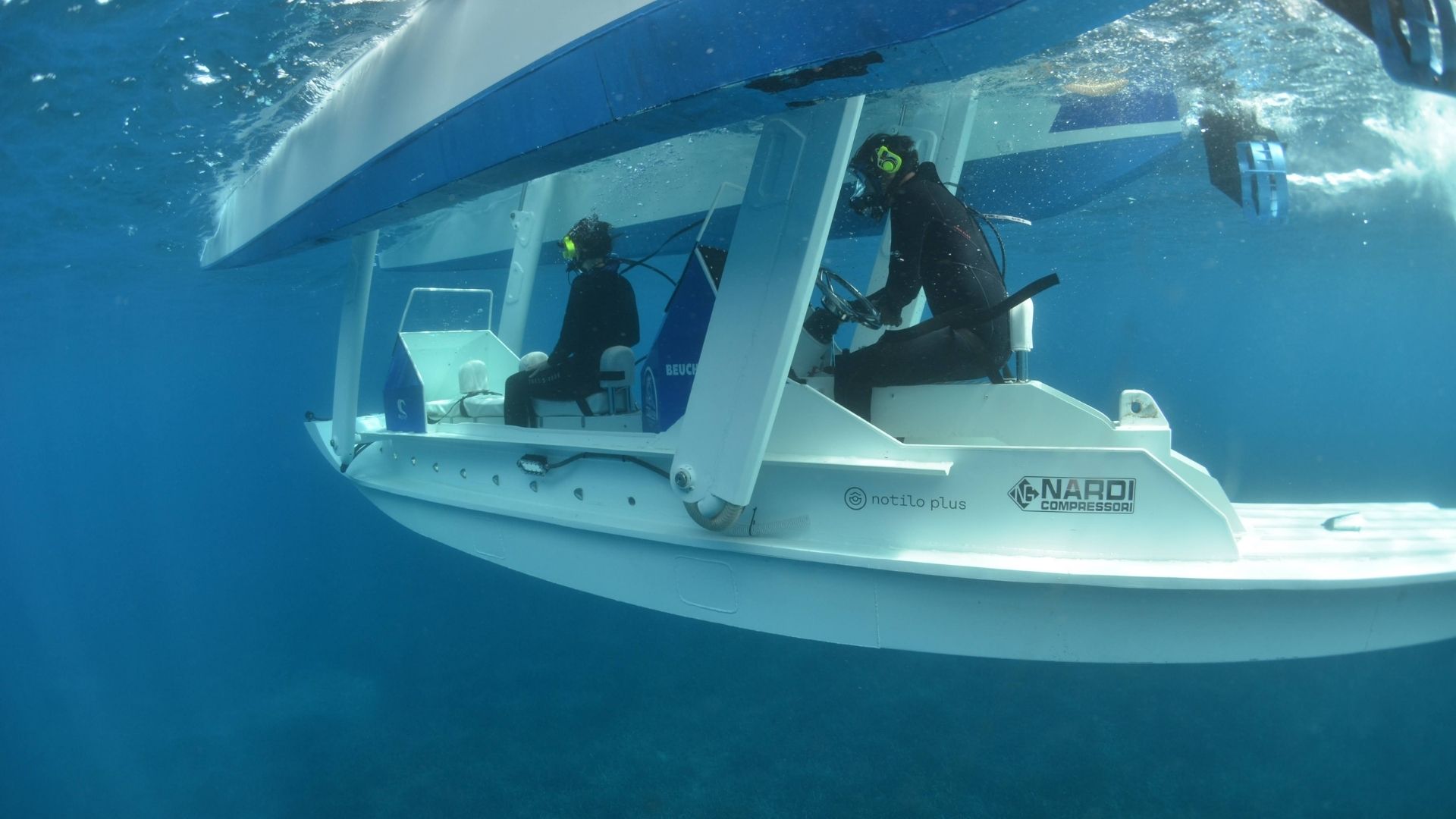 Lack painting (specific painting on demand)

Double Air compressor (hookah system) with 6 air hoses on the pod

Mobile central hull designed for 6 people Surface / Diving

Full detailing & equipment (cleat, anchor, strake, seats, foot straps and belts for driver and passengers…) including a beautiful "craft finishing": aluminum dashboard, vinyl upholstery…

Propeller cages

Digital periscope (necessary for having certification of the ship as a boat)

Plexiglas windshield

Speedometer, sonar, tachometer, board computer, 12V battery gauge

Submarine lights: 2 spots with 10 leds

Soft awning

Shower kit

Radio with 4 speakers
Powerful Submarines projectors

Underwater Cameras

Underwater communication system (for Ocean Reef

 

masks only)

Waterproof case with GPS

Additional ballasts (in lateral hull) for max. stability underwater 300L*2

Power:

E-platypus: full electric propulsion system (2*10kw power,20kw lithium ion batteries)

gas power: 2*75 HP outboard gas

 

engines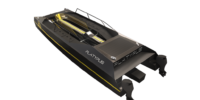 Discover the Platypus SPEED EDITION
You want a sport boat with a unique design ? You like fun on and under the water ?
The SPEED EDITION is definitely made for you!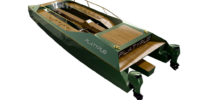 Discover the Platypus YACHTING EDITION
If you are looking for a tender for your yacht with a disruptive design, high class standards and a unique capacity being both a tender and a toy, allowing you to invite your passengers to discover shallow waters from down under, don't search anymore.
The YACHTING EDITION is made for you !
Like what you see? Contact us