If you are looking for a tender for your yacht with a disruptive design, high class standards and a unique capacity being both a tender and a toy, allowing you to invite your passengers to discover shallow waters from down under, don't search anymore: the Platypus YACHT EDITION is made for you !
With this craft, you will be able to transport your passengers in another dimension, on or under the water
The YACHT EDITION is made on the full speed hull of the SPORT EDITION, gathering all its equipment but is adding many specificities to distinguish your platypus from others:
Yacht painting, full leather cockpit, carbon underwater dashboard.

Double Air compressor (hookah system) with 6 air hoses on the pod

Mobile central hull designed for 6 people Surface / Diving

Full detailing& equipment (cleat, anchor, strake, seats, footstraps and belts for driver and passengers ..) including a full beautiful "craft finishing" : aluminum dashboard, vinyl upholstery…

Propeller cages

Digital periscope (necessary for having certification f the ship as a boat)

Plexiglas windshield

Speedometer, ecosonar, rev meter, board computer,12 v battery gauge

Submarine lights: 2 spots with 10 leds

Soft awning

Shower kit

Radio with 4 speakers

Specific high speed hull (length 9,m, hydrodynamic arms to handle the central hull)

Power: 2*150 HP gas engines (option 2*200 HP)

Sport edition detailing & equipment

specific adhesive, cushion, black metal painted elements, …

Specific seats & backrests, specific 4 points harness

More instruments to control engines & speed

Anti-collision alarm (beeper underwater)
4 Submarine high power projector lights 40 leds each (2 front, 2 down)

Full bulb cockpit 6 people, 1 pilot + 5 passengers

Masks & Communication system Underwater (Ocean Reef)

Premium Radio (with 8 speakers and a subwoofer)

Rigid awning

Additional ballast in lateral hulls

Underwater Audio system

Waterproof pad with GPS connection

Solar rigid Awning integrating a cabin like on the rear platform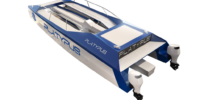 The BLUE LAGOON represents the DNA of the original platypus concept, with a blue and a whole equipment allowing a resort or a leisure operator to offer to their customers the whole ability of Platypus: navigate with 5 passengers on or under the surface.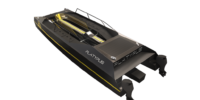 Discover the SPORT EDITION
You want a sport boat with a unique design ? You like fun on and under the water ?
The SPORT EDITION is definitely made for you!